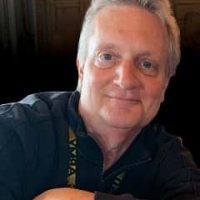 Herb Bogard llI went to be with God with Laura, Celeste and Kierstyn holding him and setting him free of any more pain and suffering on September 4th at 9:22pm. He was met with open arms by his son, Herbie and his loving parents Herb and Dot Bogard and his beloved coonhound Maggie. Herb was a man of many words, silly, but mostly annoying and horrible, corny jokes and laughter and a huge heart. There was no one who couldn't say that seeing him made their day a little brighter with his smile and laughter. He was a man who wore a full Superman outfit in order to match and play with his beloved grandson and wore it well. He was the best papaw and father figure anybody could imagine for their grandchildren and children. He loved fishing and camping by the water with his friends and family called the "Campers" by his side as he loved nature. He had an avid love for junk food, digital camo, and anyone who knew him knows he had a Coke by his side at all times…probably along with hostess cupcakes and Snyder's Pretzels. Although he has tragic events in his life along the way, he was a man of faith and happiness that spread to everyone he came across. He loved his family more than anything.
Herb or as he was known "Bogie" was the voice on the radio for years who made everyone days a little better when listened to. The family would like to apologize in advance in things in heaven that might be delayed due to Herb and little Herb up there causing havoc with laughter, Crown royal, Jagermeister, jokes and a lot of "yee'haws" ..the angels and God will need to time to adjust. He has left you all with his beautiful wife, daughters, grandson to remember him by, which was his sole purpose here on earth. He has two sisters, Deborah and Bob Stafford and Cheryl and Bob Schneider. Herb has a sister-in-law Lisa Reed and brother-in-law, Mark Yeske who were just like his own brother and sister. He was by far the Favorite Uncle with 13 nieces and nephews and will continue to torment from above to both them and their children. See you in the funny
         paper's Herb, and we got you last!
Friends and family can visit with Herb's family between 2:00 – 4:00 on Saturday, at Goodwin                            Funeral Home. A service to celebrate Herb's life will begin at 4:00 on Saturday, at the funeral home. Burial will follow in Memorial Park Cemetery.
In lieu of flowers, please bring to his celebration of life, your best memory or laugh to tell us all.