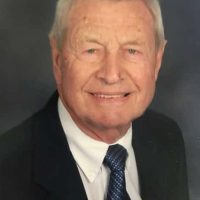 Lowell Thompson, 93, of Vincennes, passed away peacefully Sunday, September 1, 2019 at Gentle Care with his daughters by his side.
Born November 22, 1925 in Lawrence County, IL, he was the son of Lester and Floy Thompson. Lowell was a devoted husband to his wife Dorris Montgomery Thompson, whom he married August 21, 1949.
Lowell was a 1942 graduate of Edwardsport High School. During World War II, he proudly served his country as a Marine on the aircraft carrier USS Ranger. He always believed the saying, "Once and Marine, Always a Marine".
Lowell worked for Amoco Oil Company (Standard Oil of Indiana) for 37 years before retiring in 1984. As his faith was very important to him, Lowell was an active member of First Christian Church of Vincennes serving as a deacon for many years. Lowell was a member of the Elks Club where he enjoyed the camaraderie with others. He was a lifelong sports enthusiast enjoying bowling, playing cards, daily walks, and golf. He followed Indiana University basketball, Pacers, Colts, and most of all, his beloved Chicago Cubs. Despite being a very average golfer, Lowell amazingly shot a hole in one, not once, but 7 times!
Lowell's life was devoted to his family and friends. Some of Lowell's happiest moments were spent with his pride and joy, Erica and Erin, his grandchildren. Being "Pop" to them was his most cherished title. Lowell was a kind, generous, hardworking man who was an inspiration to those who knew and loved him.
Lowell is survived by his two daughters, Carol Thompson of Vincennes, IN and Gloria Arnold of Washington, UT, and his two grandchildren, Erica and Erin Arnold of Washington, UT. He was preceded in death by his wife, daughter, parents, and sister.
A special thank you to friends, Sue Thompson, Greg Parsley, and Tim Smith for their love, devotion, and support to Lowell.
Funeral services will be Saturday, September 7 at Goodwin Funeral Home . Viewing hours 10AM – 12PM. Service at 12:00 PM. Gravesite service to follow.
In lieu of flowers, memorial contributions may be made to First Christian Church of Vincennes or St. Jude Children's Research Hospital.