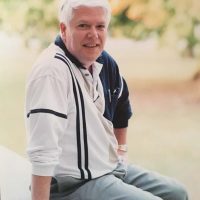 James (Jim) Robert Smith, of Vincennes, IN, passed away on August 11, 2019. He was 67 years old. Born in Fort Campbell, Kentucky on August 18, 1951, to Don and Barbara (Crowley) Smith, he was raised in Vincennes. He was a true entrepreneur, starting many new ventures such as Photo Pro, Quick Rent Video, Platinum Farms, Holiday Fireworks, and many others. In 1979, he and his brother Randy founded Midwest Marketing, a watermelon brokerage company, and they operated it for 37 years. In the winter months, he loved taking on new hobbies such as woodworking, building model airplanes, breeding aquarium fish, and starting small business ventures.
Jim was a lover of music who always had a song in his heart. In high school, he played trumpet in the marching band. He has led barbershop groups, sang lead in The Commanders Quartet, and led choirs, cantatas, and Christmas plays. He served the Lord at Cornerstone Ministries as the worship director and treasurer.
Jim, like his father, kept up with technology from having video equipment for making family Christmas videos before the days of computerized video editing software, to installing and operating the latest song presentation software at the church.
Jim is remembered as a family man who loved spending time with his siblings, children and grandchildren, whether it was watching TV, playing games, reminiscing, or just being together. His style of fun was being hospitable and making fun for the ones he loved. Recently, he re-kindled a love for fishing and boating. He and his wife Carrie bought a home off Sullivan lake and a pontoon boat and enjoyed several fishing and water sport excursions with various family members.
Preceding his passing are his parents Don R Smith, Barbara Smith, and infant daughter, Shirley. Left to cherish his memory are his wife Carrie, sons Toby, Sean (Andrea), Kyle (Emily), and Ryan Fields, and daughters, Amberlee (Mike) Berry, and Robin Anglin, and 14 grandchildren. He is also survived by his sisters Sharon (Larry) Speth and Dolores (Mike) Tyner, and his brothers Randy (Pam) Smith, Rick Smith, and Mick (Sandi Decker) Smith.
Friends, family, and others whose lives were touched by Jim are invited to the Goodwin Funeral Home in Vincennes on Wednesday, August 14 from 4 p.m.-8 p.m. for visitation and a celebration of life service at Cornerstone Ministries on Thursday, August 15th at 10 a.m. The burial will follow in Memorial Park cemetery.  Afterwards, friends and family are invited to Cornerstone for a dinner.  In lieu of flowers, please honor Jim's memory by donating to the non-profit adoption foundation, Show Hope, @  www.showhope.org/