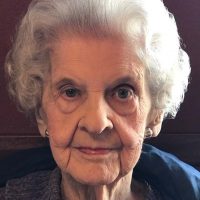 Audrey Arleen Wilson, 93, of Vincennes, passed away on Wednesday, February 6, 2019 at her home. She was born October 7, 1925 to Richard and Elsie (Mahrenholtz) Leachman in Vincennes, Indiana.
Audrey married Charles Raymond Wilson in Henderson, Kentucky on April 27, 1946. He preceded her in death on October 30, 1995.
She was baptized in the Christian faith and attended McKinley Avenue Presbyterian Church for many years. Audrey retired, after a long career from, Hoosier Gas Corporation and was a graduate of Lincoln High School. During her professional years, she was active in the Business and Professional Women's organization having served as president and other officers over the years. But her biggest joy in life, was her family and friends. An only child, Audrey grew up with her Marhrenholtz aunts, Eloise, Marguerite, Mildred, Verna, and Alberta. They were like sisters and they spent time together until each of their deaths. The birth of her grandson, added great joy as she was a hands on grandmother, and in her later years, that joy was greatly enhanced upon his marriage to Peggy and the births of her three great-granddaughters.
Surviving is her daughter, Andrea Koenig, and her husband, Carl, of Vincennes, her grandson, Kirk Koening and his wife, Peggy Guerrettaz Koenig, and three great-granddaughters, Gabrielle, Madeline, and Katherine, all of Indianapolis.
Graveside services will be at 10:00 am Saturday, February 9, 2019 at Memorial Park Cemetery with Rev. Trevor Murray officiating. Goodwin Funeral Home is honored to serve the family of Audrey Wilson.