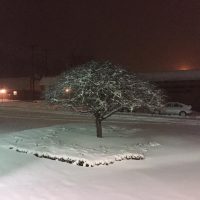 A winter storm has made travel difficult across the area today.  A good amount of snow has fallen since last night; final totals could total between four and seven inches of snowfall.
National Weather Service forecaster Jason Puma says to keep an eye on the coming forecast. Puma also says if you do travel today, you should be ready for the rough conditions across the area…
Some snow melt is possible over the next few days, with daytime temperatures rising back into the mid to upper 30's.