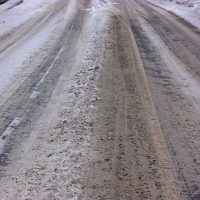 Knox County and INDOT snow plows are out clearing roads affected by the current winter storm.  In Knox County, Highway Superintendent Benji Boyd says crews started clearing the roads at five a-m this morning, and stay out a maximum of 12 hours.  Workers will have at least the next eight hours off before returning to work as needed.
INDOT crews were out out pre-treating area highways and interstates on Friday.  State highway trucks will also be out plowing the highways, with one circuit happening every two to three hours.  Also, salt trucks will work on the locations between passes.
Traffic conditions are available for the public through the INDOT mobile app, or by calling 800-261-ROAD.
In Illinois, you can check road conditions by calling 1-800-452-4368 or check out gettingaroundillinois.com