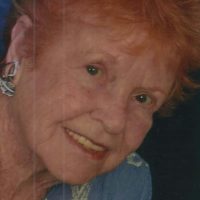 Opal V. Greentree, 95, of Vincennes, IN, passed away January 1, 2019, at Good Samaritan Hospital.
Opal was a member of the Rising Sun Christian Church near Lawrenceville, IL, and was a former member of the Franklin Heights Christian Church in Vincennes, IN. A homemaker, Opal enjoyed taking care of her family.  She also liked to fish and play cards.
Born November 1, 1923, in Vincennes, IN, she was the daughter of Oscar and Pansy (Snider) Ballard. Her parents; her first husband, Leo Greentree; her second husband, Raymond Smith; her sister, Mary Etta Fisher and her husband, Herman; and her brothers, James Ballard and his wife, Doris and Robert Ballard and his wife, Rose, preceded her.
Surviving are her sons, George Kennedy and his wife, Diane Kempton, of Matteson, IL and Steven Greentree of Oaktown, IN; her grandsons, Mark and Jake Kennedy; several step-grandchildren, including Bill and Jill Smith; several step-great-grandchildren; many loving friends from around the world; friends from Vincennes,  IN to LaBelle, FL and everywhere between; her church families from Rising Sun Christian Church and Franklin Heights Christian Church; and her card playing buddies.
Her family would like to thank the staff at Colonial Assisted Living, the Good Samaritan Hospital Rehab Unit, and the rehab staff and skilled nursing staff at BridgePointe Health Care.
Friends may visit with the family from 10:00 – 12:00 EDT on Friday, at Goodwin Funeral Home. The funeral will begin at 12:00 EDT at the funeral home. Interment will follow in Memorial Park Cemetery.
Donations may be made to Good Samaritan Hospice. Online condolences may be sent to the family through goodwinfamilyfh.com.