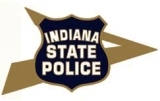 State Police arrested a Fort Brach man early Sunday morning after he fled a traffic stop on US 41in Gibson County.
A State Trooper and Gibson County Sheriff's Deputy attempted to stop the drivers of a speeding car and motorcycle around 1:00 AM.
The driver of the car stopped, but the driver of the motorcycle fled police at speeds of up to 120 miles an hour.
Police disregarded the chase due to safety reasons.
However, they learned from the driver of the car the motorcycle driver was 23-year-old Chase Singleton of Fort Branch.
Singleton was arrested at his home for Resisting Law Enforcement, Reckless Driving and Speeding.